Total Piping Solutions has been supplying "Cleaned for Oxygen Service" fittings to medical gas piping installers from coast to coast. Total Piping Solutions fittings, both copper and brass are "Cleaned for Oxygen Service" Per CGA G-4.1-2004 specifications and meet all NFPA 99C requirements. All oxygen cleaned fittings are bagged and identified by fitting description and lot number. Every order includes a certificate verifying that the fittings purchased have been "Cleaned for Oxygen Service". Random lot samples are periodically submitted to an independent third party laboratory for testing and inspection to insure that all our fittings meet CGA G-4.1 and NFPA 99C "Cleaned for Oxygen Service" standards.
Total Piping Solutions also offers a line of valves, parts, equipment and tools specially selected for the medical gas piping installer. The equipment and tools we offer meet and/or exceed the NFPA guidelines for performance criteria.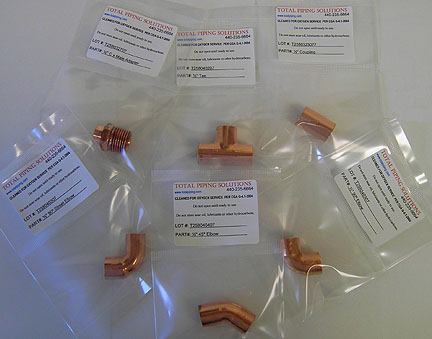 From "Cleaned for Oxygen Service" fittings to pipe hangers, valves, clamps, tubing cutters, Teflon tape, oxygen compatible joint compounds, leak detectors and specialty medical gas installation tools, you can shop safe and secure on-line for all your Total Piping Solutions.
We pride ourselves on fast and reliable service. We have experienced sales personnel who will assure that your order is processed timely and accurately. Most items are in stock and ready to ship. We welcome both large and small orders and no minimum purchase is required.
If you have any questions, please e-mail us at sales@totalpiping.com or send us a fax to 440-235-6505.